Compression Technology
The HIDEZ graduated compression animal suits are innovative engineered garments, using revolutionary technologies to construct the suits. Our scientifically engineered fabric is cut (into panels) in specific ways, then the strategically placed panels are sewn together to focus on certain muscle groups.

The unique seams also play a role, acting as anchor points, our seams help us with muscle focus creating the right amounts of controlled graduated compression to the animal

The term graduated compression means applying a greater amount of pressure at the extremities (the lowest point of the leg) and the pressure reduces off along the limbs and body. This technique HIDEZ uses force these vital blood supplies out of the lower limbs (where fluids tend to pool) back into circulation, back towards the heart.

This process enhances blood flow and oxygen availability to animal's muscles speeds up the removal of waste products (e.g. lactic acids and carbon dioxide) for vital blood supplies. Good healthy blood supplies recover injuries faster, help prevent injuries by maintaining muscle temperature and it reduces muscle fatigue and by flushing out bad blood it reduces delayed onset muscle soreness (DOMS).
HIDEZ uses a unique muscle focus strategy when applying pressure to an animal's hide. HIDEZ wrap the muscle groups focusing on them to help control graduated compression, but also to reduced muscle vibrations. This is very important when animals are travelling.
Muscle's work extremely hard during traveling, they vibrate can overstretch. Muscle vibration can cause micro fibres to tear in the muscles, as a result membranes leak and the enzyme creatine kinase (CK) leaks into the blood in high concentrations causing cramping and ultimately travel sickness.
Our Fabrics
HIDEZ manufactures its own fabric which is a breathable moisture management fabric ,that contains high stretch elastomeric yarn .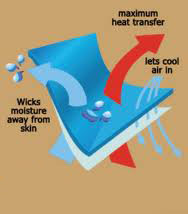 This Moisture Management fabric enhances:
* Circulation
* Aids in lactic acid removal
* Aids in the increased flow of oxygen to the muscles
* Assists in the reduction of muscle vibration and delayed muscle soreness.
HIDEZ suits are manufactured using "warp knit" construction. Warp Knit fabrics are more durable and far superior to circular knitted fabrics,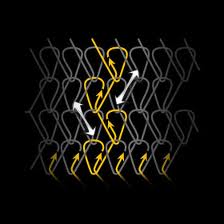 Our fabrics are the most durable fabrics of their kind anywhere in the world and designed to return its natural/original shape no matter how much physical exertion or force the fabrics are subjected to when worn.